Open CLAMS the EASY way!
WE ♥ FRESH CLAMS! But we're not in love with their usual prices at fancy restaurants. That's why we came up with this simple solution...
Meet the CLAM RAM® Thanks to the CLAM RAM®, now you can bring the whole mouthwatering experience of opening and enjoying fresh nutritious clams home to share with your family & friends for a fraction of the cost!
A Better Clam Opener: The CLAM RAM® is ergonomically designed to provide for a much easier, safer, and simplified clam opening experience, making it so easy that almost anyone can open fresh clams.
Get it For Your Kitchen: Whether you like them on the half-shell or simply want to serve the freshest clam chowders and cuisines, you can trust that the CLAM RAM® will be there ready to make your life a little easier.
Today's Deal: Buy 2-get-1 FREE!
33% off!
Using the CLAM RAM® is easy!
The CLAM RAM can be used to open: Littlenecks, Middlenecks, Topnecks, Cherrystones, Quahogs, and Chowder Clams.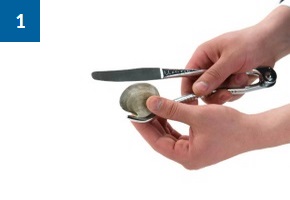 Insert the CLAM...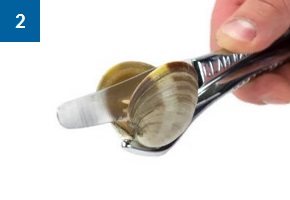 Close the RAM...
Scoop, and serve!
Clam Knives Can Be Dangerous!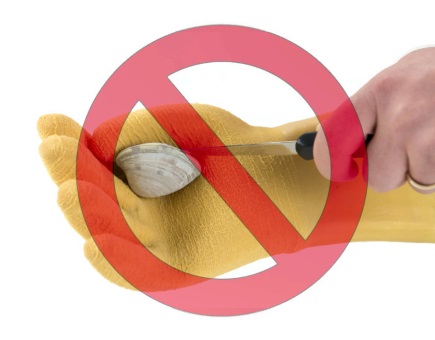 « This glove is NOT a fashion statement...
There's a reason the man in this photo is wearing a big bulky glove, and it has nothing to do with his sense of fashion.
Using a traditional clam knife can be dangerous and frustrating, especially if you are not a clam shucker by trade.
The CLAM RAM® provides a much safer and easier solution for those who appreciate the distinct taste of fresh clams versus frozen ones. So, what are you waiting for?
What can CLAM RAM® do for YOU?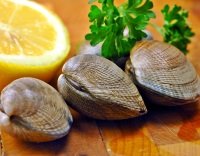 Like them Raw?
Nothing beats the fresh delicious taste of clams on the half-shell. A little ketchup, hot sauce, a twist of lemon, and you're in for a healthy refreshing treat.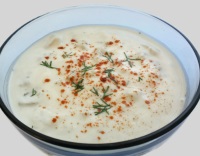 The Soup's for You?
Expert chefs know that if you want out-of-this-world clam chowder, you have to use the freshest ingredients, and when it comes to processed, canned, frozen, and even live steamed clams, they simply don't maintain the taste and texture that your pallet deserves. The only way to make amazing clam chowder is to start with freshly opened clams.
Like to Cook?
If it's clam based cuisine that excites your taste buds, then don't compromise with your ingredients. Starting with freshly shucked clams, made easy by the CLAM RAM, will get your culinary masterpiece off to the right start.
Try Our Favorite Recipes »